WATCH: Kylie Minogue At Sydney Mardi Gras: The Parade
and gay icon Kylie Minogue showed her support for same-sex marriage
as she wowed the crowds at this year's Sydney Mardi Gras.
She slammed Australia's current ruling saying: "Of course I believe that it should be legalised. I always say, love is love is love."
Minogue, who was named guest of honour for last night's 35th annual gay, lesbian and transgender parade, added: "Hopefully whatever hurdles or obstacles are in the way can soon be banished, that would be great."
More than 9100 people marched up the street toward Taylor Square, including some Marilyn and Kylie look-a-likes, superheroes, brides, grooms, cheerleaders, angels and butterflies.
At least 20 of the 120 floats rallied proudly for marriage equality, fitting with this year's theme of "Infinite Love"


Politicians threw their support behind the cause, with Federal MPs Anthony Albanese and Tanya Plibersek, and State MPs Carmel Tebbutt, Penny Sharpe and Linda Burney marching in Rainbow Labor's marriage equality float.
State MP Bruce Notley-Smith was on the GLBTI Liberals float.
But this year's showstopper was the elaborate Kylie Minogue-themed float designed especially for the singer, who made her first appearance at the Mardi Gras since 1998.
Kylie, who has received an Order of the British Empire for services to music, was awarded another high honour last night when she became part of history at Mardi Gras.
The Kylie tribute float became the festival's biggest float ever.
Artistic director Gary Leeson said it had 127 participants surrounding four floats.
Minogue, 43, said the event holds great memories for her having attended twice before.
"It's such a great way to celebrate the relationship between the gay community and myself and everything we have been through together," she said.
"The city feels alive, it's something that is great for Sydney, great for Australia and I am so honoured to be a part of it."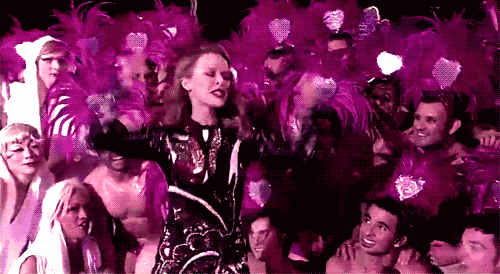 Check out Kylie's Mardi Gras Performance HERE!
Thanks to Daniel Boud for the great pics!