A Message From Kylie
Kylie and a very special friend send kylie.com followers a quick message backstage before getting ready for another performance of the Aphrodite - Les Folies Tour 2011...
This is what the papers in Australia have been saying about Kylie's triumphant homecoming with her all-conquering Aphrodite : Les Folies 2011 Tour!
Kylie Minogue had us spinning around in delight in exclusive "splash zone" during her Aphrodite: Les Folies Aussie debut… the party in the exclusive zone within the confines of Kylie's spectacular stage was one of the most incredible nights of my life… when she returned for her encore… it literally went from memorable to a never-going-to-forget-this-night experience"
COURIER MAIL
– Saturday 4th June 2011 – Brisbane
Kylie Minogue's Aphrodite show is a feast for eyes and ears.
TAKE one part Caesar's Palace, add a measure of Cirque du Soleil and a few dashes of modern ballet. Frost with delicious Dolce and Gabbana costumes, sprinkle with fountains and you have the musical fantasy of Kylie's Aphrodite Les Folies show… Kylie Minogue returned to her awe-inspiring Aphrodite persona to wow an adoring crowd at the Sydney Entertainment Centre last night. Loyal fans… were able to witness why this has been called the most ambitious show of Minogue's career. The tour sets an expensive benchmark for the current pop princesses to top with its lavish sets inspired by ancient Greece and thos water fountains which have won… critical acclaim…
THE DAILY TELEGRAPH
– Wednesday 8th June 2011 – Sydney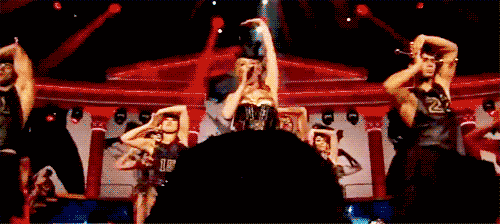 Aphrodite is the Greek goddess of love, beauty, and sexuality. That pretty much sums up the thematic elements of this amazing, mindblowingly elaborate stage show. To say this is the most spectacular staging seen at the Sydney Entertainment Centre is an understatement… despite all the expensive Ancient Greece-via-Las Vegas staging, the hundreds of breathtaking costumes, the water-theme (which made for an unforgettable encore), and the impeccable choreography, the highlight was, not surprisingly, Kylie Minogue… she showcased why she is the premier pop star… The live backing band were first class, and added a freeing aspect to many of the tunes… it was clear that this show wouldn't be topped this year for either staging or for audience-adulation. Kylie knows her audience, and they love her for it… This is why we love Kylie; and this is why she is our greatest export. It's nice to have her back, though…
THE MUSIC NETWORK
– Wednesday 8th June 2011 – Sydney
In 2011, on her 75-date Aphrodite Les Folies world tour, Minogue has set a new standard for what audiences can expect from a large-scale concert experience. It's a visual feast. No other Australian act, with the exception of AC/DC, has delivered a show with such pomp. Frankly you'd be hard pressed to find an international act that could surpass Minogue's visual ambition. The set itself, possibly the biggest erected indoors at the venue, recreates ancient Greece… The tour will be remembered as nothing short of a triumph.
THE AUSTRALIAN
– Wednesday 8th June 2011 – Sydney