It's Official: Kylie Minogue's PWL Albums Are Being Re-Released
By popular demand, PWL are delighted to reissue
Kylie's first four albums
from the undisputed princess of pop, KYLIE MINOGUE.
Marking the first time these classic albums have been back in print since their initial release, and with each digitally remastered from the original studio tapes, 'Kylie' (1988), 'Enjoy Yourself' ('89), 'Rhythm of Love' ('90) and 'Let's Get To It' ('91) will be reissued on 27th October.

Certified six times platinum in the UK, and the biggest-selling debut ever at the time, 1988's 'Kylie'includes favourites "I Should Be So Lucky" (UK #1) and "The Loco-Motion" (UK#2, US #3). Four times platinum chart topper 'Enjoy Yourself' (1989)continues the run of hits with "Hand On Your Heart" (UK #1) and "Tears On My Pillow" (UK #1). Hitting the UK top ten on release, 'Rhythm Of Love'(1990) features "Better The Devil You Know" (UK #2) and "Step Back In Time" (UK #4), whilst Kylie's final album for PWL, 1991's'Let's Get To It', includes "Give Me Just A Little More Time" (UK #2), and the self-penned duet with Keith Washington, "If You Were With Me Now" (UK #4).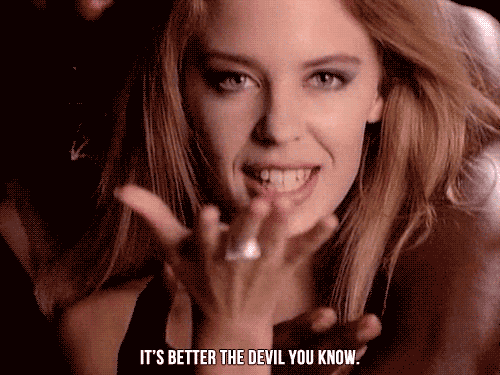 The reissues include a slew of bonus tracks, B-sides and remixes such as "Especially For You", Kylie's platinum-selling #1 duet with Jason Donovan, and the original 1987 version of "Locomotion" (Kylie's Australian debut single prior to signing with PWL). One such track is the Sax On The Beach mix of What Do I Have To Do. It's so brilliantly 90s and here is a snippet of it for you to hear.

Expanded versions of each album will be available in three editions:
Special Edition (unique picture CD artwork and a 24-page booklet containing full lyrics, new sleeve notes and classic images),
Deluxe Edition (specially presented 2CD and DVD set including rare tracks, remixes and promo videos) and
Collector's Edition (limited pressing boxset featuring picture disc LP, 2CD and DVD set, and other memorabilia).

All four albums will be made available worldwide, with pre-orders starting from 3pm on Friday 15th August.
This follows an online teaser campaign around the hashtag #stepbackintime that has been building momentum over the last week.
Pete Waterman said: "Kylie celebrated 25 years in music a couple of years back, so I went along to see her Anti Tour and to say hello. It was a fantastic night, and hearing her do some of these songs then, tracks she probably hadn't sung since she was signed to PWL, was magical. It was obvious just how special they are - for Kylie herself, for all of us worked on them, and for the fans in particular, and more so with time. They've become genuine classics.

"Back then, we were making music for the moment, but it's stood the test of time. That's something special. And that's why we're celebrating with these very special releases. I now know what history means"


For more information, visit