Celebrate Kylie: "Let's Dance Through All Of This"
Celebrate Kylie's Camptastic Classic,
"Your Disco Needs You"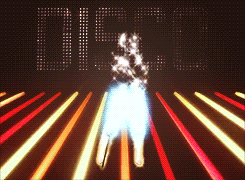 A song performed by Australian recording artist, songwriter and goddess of pop Kylie Minogue, taken from her seventh studio album Light Years (2000). The song was written by Minogue, Guy Chambers and Robbie Williams and produced by Chambers and Steve Power. Musically, "Your Disco Needs You" is a traditional disco song, while lyrically, it talks about the power of disco music. The song references Uncle Sam in the iconic picture We Want You.


The song received critical acclaim from many older and contemporary music critics, with some noting it as one of the best gay anthems to date. It also gave an iconic image to Minogue as a "gay icon". Though it had limited success, due to it only being released outside of the United Kingdom. The song peaked inside the top forty in countries Australia, Switzerland and Germany. Kylie has performed the song on most of her 2000 and onward tours, including:
On a Night Like This Tour
Showgirl: The Greatest Hits Tour
KylieX2008
North American Tour 2009
This week the Official Charts Company in the UK named 'Your Disco Needs You' as favourite for Pop Gem status, saying...
"Kylie's greatest single-that-never-was is your runaway favourite for Pop Gem status"
"Two centuries from now when we are all dead and even Kylie is starting to look as if she might be in her late-20s, pop historians will look back on Parlophone's failure to release Your Disco Needs You as a single and they will be disgusted."
"We cannot undo what has already been done, but if we can use the disastrous non-single choice as the catalyst for positive change, then the events of those dark days in the early 2000s may, eventually, inspire positive change. From this misery and despair let us find some hope."
"So...Let's dance through all of this."
Well, you can't really argue with that, can you?