Kylie's Aphrodite Les Folies DVD: A Five Star Review
Superstar Kylie Minogue Showcases Nearly 25 Years Of Europop In Aphrodite: Les Folies [Live in London]
By Scott Harrah, StageZine.com
Australian superstar Kylie Minogue showcases and celebrates nearly 25 years of pop in the DVD of her Aphrodite: Les Folies concert. (This DVD was filmed at London's 02 Arena, but she has toured it all over Europe, Australia, and Asia.)
Some say Kylie relies too heavily on visuals in this spectacular show, as one misinformed newspaper critic noted when the scaled-down-for-the-colonies North American version (staged for smaller U.S. venues), Aphrodite 2011, came to New York City for three nights this past May. These are the same people who have never understood Kylie as a recording artist, particularly here in the USA.
Shows of this nature are staples in Europe and the United Kingdom, where Kylie has reached a level of fame comparable only to Madonna's. She has been awarded an Order of the British Empire (OBE) by Her Majesty, Queen Elizabeth II for "Services to Music," an Order des Arts et des Lettres in France (where she is as respected as French pop icon Mylène Farmer), and this autumn was awarded an Honorary Doctorate from a UK university for her tireless campaign to promote breast cancer awareness after a long battle with the disease.
The acrobats, scantily clad male and female dancers, water fountains, laser projections, and high-tech, onstage antics compliment the music without overshadowing the 43-year-old Kylie performing her arsenal of hits from the Aphrodite album, plus many golden oldies stretching way back to the Stock Aitken Waterman British pop for which she first made a name for herself decades earlier. The pint-sized Diva from Down Under, sports an endless array of Dolce & Gabbana fashions and ultra-high heels. The Italian couture design duo christened her la piccola principessa ("the little princess" in Italian), and she looks gorgeous throughout the show, but it is her bubbly energy, spunky audience repartee, and perfect-pitch live singing that all win over her many generations of fans.
From the show's opener, when she enters the stage on a giant, golden clam shell while sporting her Greek goddess costume and sings "Aphrodite," to "The One" and "Wow," Kylie is intent on pleasing newer fans with material from her discography in the 21st century. Her countless costume changes are usually preceded by techno-pop preludes to her hits, such as "Illusion" (from the Aphrodite album). Women dance around in gossamer gowns and scarves to Middle Eastern-tinged music while we watch video projections of Kylie in an Arabic half-veil, with her piercing eyes poking out (looking like a modern-day, blonde Barbara Eden in "I Dream of Jeannie"), and soon Kylie ascends the stage atop the golden, winged horse Pegasus (straight out of Greek mythology) to sing the song.
The cheers and screaming from the crowd in London, just like the fans at her New York show, never subside as she changes into a crinkled Dolce & Gabbana metallic gown and performs hits such as "Spinning Around," "Get Outta My Way," and her massive U.S. hit "Can't Get You Out of My Head," complete with heavy-metal-style guitars that give the track a sound that will certainly silence all the critics who claim Kylie cannot perform rock-and-roll. Yes, Kylie, Princess of Pop, can sing guitar-oriented music as good as any hard-boiled female rocker in the States. However, she quickly reverts to her dance-pop roots with the Stock Aitken Waterman classic "What Do I Have to Do?"
One of the highlights in the first half of the concert is an electronica version of her 1994 hit "Confide in Me," featuring an intro of video projections of Kylie in a black bang wig, with crimson lips, Cleopatra eye liner and white pancake makeup. Male chorus boys dance around in skimpy, body-baring outfits as the hypnotic beats go wild, and soon Kylie enters the stage to sing the vintage track, and she has never sounded better.
The second half of Les Folies is even more spectacular. Opening with "Looking for an Angel," Kylie soon jumps on back of a winged man modeled after the Greek myth of Icarus and ascends the stage, flying over the audience (in a high-tech harness) while singing "Closer" before coming back down to earth to one of this reviewer's favorite parts of the concert: An ethereal cover of Annie Lennox's "There Must Be An Angel." As an angelic chorus trills harmoniously, Kylie, clad in an ultra-mini Greek princess dress, delivers a beautiful rendition of the song. Any foolish critic who has ever claimed La Minogue cannot sing need look no further than this portion of the concert. As Kylie seamlessly performs the cherished Lennox hit, a chorus of gospel-inspired singers joins her in harmonious, Motown-inspired unison. It literally brings down the proverbial house in London (as it did at the New York show). Who would have ever thought this cute little Aussie had as much "soul" as some of the USA's R&B music legends?
What follows are oldies from both the 2000s and the 1990s, such as "Love at First Sight" and a tribal, percussion-heavy, African dance-club style version of "Better the Devil You Know" to a breathy cover of Prefab Sprout's "If You Don't Love Me" to "Put Your Hands Up" from the Aphrodite album (the Pete Hammond remix of the latter song was a huge club hit in the USA last summer).
The finale is also an ode to Americana, Kylie-style, as the instrumental "Million Dollar Mermaid" flashes Esther Williams-style swimmers on video screens, like something straight out of Williams' old Hollywood films. Kylie eventually takes the stage in a gold Esther Williams get-up, complete with a Dolce & Gabbana swim cap. Kylie sings one of her best hits of all time, "On a Night Like This," dancing around the stage and strutting down the O2 Arenas runways like a Paris supermodel as "Splash Zone" fountains squirt water in expertly timed precision. In no time, the song segues into one of the biggest American hits from Aphrodite, the universal love anthem "All the Lovers." Kylie, on a circular platform with a pool, sings as acrobats twirl in the air and the fountains squirt water and the dancers writhe around.
It is a beautiful closing to Kylie's most lavish and expertly designed concert ever, cementing her status as one of the world's greatest entertainers. All hail the Princess of Pop. We hope she will keep "Spinning Around" for years to come, and return to this side of the Atlantic soon.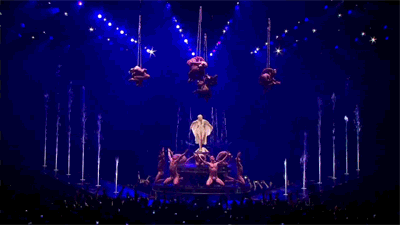 APHRODITE: LES FOLIES [LIVE IN LONDON]
Performed by Kylie Minogue
Directed by William Baker & Marcus Viner
Choreography by Anthony Testa
Released in the USA by Astralwerks/Parlophone/EMI
On DVD, Blu-Ray, & 3D versions
NTSC North American version available from
Amazon.com