LISTEN: Kylie Minogue - Soundcheck WNYC Radio Interview
Kylie Minogue: 25 Years Of Music And Fashion
The Goddess of Pop stops by WNYC to talk about a new buzz track, "Skirt," a new book chronicling the evolution of her fashion through a 25-year career, and her upcoming album!
International pop superstar Kylie Minogue is best known for hit songs like "The Loco-Motion," "Spinning Around," and the smash success "Can't Get You Outta My Head" -- which reached number one in over forty countries. Yet the Australian-born singer -- who began her career as an actor at age 11 -- also has another passion: fashion. Minogue's new book Kylie Fashion focuses on 25 years of her iconic style, a love that started as a teenager and evolved parallel to her music career.
She's also in the process of writing and recording her twelfth album, which will feature new collaborators including hip hop producer The-Dream, who she worked with on her brand new single, "Skirt."
And as to whether she still has new avenues to explore, both in music and fashion, "The list of what I haven't done is endless," says Minogue. "I'm too curious."
Kylie Minogue, on working with Jay-Z's Roc Nation on her next album:
I absolutely thrive and love being in new situations, having a new stimulus around and different ideas. A lot of the producers I've worked with through Roc Nation on this album are dreams come true. I don't know if I can mention their names yet because the album's not done, but definitely I found myself in the studio with a couple of producers going, "This was on my wish list. And here I am." It's really cool.
On falling in love with fashion as a byproduct of being a music-infatuated teenager:
I became obsessed with music. It was the early '80s so I was really into New Romantic music — a lot of the London scene and all of that. Hand and hand with that, my obsession with fashion was cemented. I used to go to the market. I would drool over anything. To go and buy one thing at the store, I would put on [layaway], so you had to put down five dollars, go back the next week, put down another five dollars. Which seems so crazy now, where you want something, you press a button, and you get it.
On her famous gold hot pants for "Spinning Around":
A very good girlfriend of mine bought the hot pants for 50p in London -- she's a photographer and artist with a natural styliing ability. She gave them to me...and they kind of hung around in my wardrobe until I was deciding what to do for "Spinning Around." I tried them on for the director and she just about had a heart attack -- she said "yes, those!" I remember being pretty self conscious on the day of the video. But as usual on a video you forget the real world exists and by the end of the day that was it, I forgot about being self conscious at all. They're from the 70s, vintage already -- I've kind of double vintaged them.
It's an important part of my life. I certainly didn't see that coming. The love and support I felt at that time, I just want to be able to give that back to everyone and help spread my message of courage, of strength, of positivity. And here we are talking about my career and all the things that are in front of me. That's what I want patients to know: Just stay strong and get through the other side.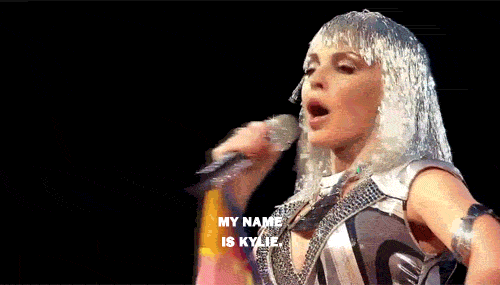 Thanks to Soundcheck.wnyc.org